Wiltshire Ghosts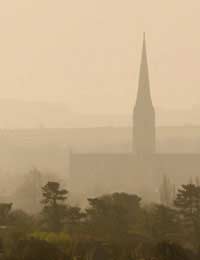 Wiltshire, known for its pre-historic mystery sites such as the stone circles of Stonehenge and Avebury, ancient mounds and barrows and the famous white horses which are carved into the county's hills, seems to be a focal point for paranormal activity of all kinds. It was the site of one of Britain's most sensational UFO flaps at Warminster. Black dogs are often spotted here too. There is even a forest area known as Black Dog Woods. Crop circles, too, abound in Wiltshire. And ghosts are no exception to the county's paranormal prominence.
Local historian John Girvan tells the tale of a ghostly hitchhiker, a mysterious young woman dressed in old-fashioned clothes who attempted to hitch a lift on the A342. A male driver passed and considered stopping to offer a lift but was put off by the late hour and her unusual appearance. Driving on, after a few minutes he was astonished to find the young lady sitting right beside him in the passenger seat! She didn't stay long, though. When he next looked, she was gone.
Wiltshire is full of centuries-old pubs, many of which seem to have resident ghosts. The Red Lion pub is actually located inside a stone circle and is well-known for its ghostly visitations. A few years back, when an episode of the Most Haunted television series was being filmed at the location, the presenter, Yvette Fielding, fled from a room after she claimed something was snatching at her hair. Her husband promptly re-entered the room with her and, according to his later account, was attacked by some unseen entity and had scratch marks to prove it! Some other Wiltshire pubs are mentioned in our article on Britain's Top Ten Haunted Pubs.
Devizes – Wiltshire's Ghost Hotspot
Devizes seems to be the most happening place in Wiltshire as far as spooks are concerned. The GHOMATS (Ghosts, Hauntings, Orbs, Mystical, Auras, Tarot, and Spirits) is a group of ghost investigators based in the town. They visit locations which are suspected of being haunted and conduct vigils with all of the appropriate equipment. If this sort of thing interests you, and you live in the area, maybe you could join their team too. Or if you own property in Wiltshire which you think may be haunted, you can ask for the Ghomats team to come and investigate it.
John Girvan, a traditional blacksmith and author of many books on the subject of ghosts, runs ghost walks around Devizes, visiting the area's most haunted spots and concluding with a dowsing at the site of the town gallows. He also hosts Ghost Evenings in which many spooky artefacts – including skulls and the skin of executed murderer John Harlow – are discussed and subjected to analysis with a variety of tools and equipment. If you're interested you can learn more or even arrange a booking by visiting his website.
Other Haunted Places in Wiltshire
Devizes isn't the only haunted town in Wiltshire. The medieval city of Salisbury has quite a few ghosts of its own and, during the summer months, guided ghost tours are available. You can contact the Salisbury Tourist Information Centre on 01722 334956 for more details.
Longleat is a splendid stately home in Wiltshire, noted for its architecture as well as its lovely landscaped gardens designed by Capability Brown. It is open to the public and has become a major tourist attraction with its own adventure playground, hedge maze and even a safari! No stately home is complete without a ghost or two and, in this, Longleat does not disappoint. Several of the building's former aristocratic occupants are said to still inhabit it as ghosts including, most famously, Lady Louisa – known as the Green Lady – whose servant lover is said to have been killed by her jealous husband, leaving her eternally distracted by grief.
Conclusion
As should be clear by now, if you're in search of spooky stuff, you could do a lot worse than pay a visit to Wiltshire, where there's sure to be something to pique your interest.
You might also like...