On the Trail of the Witchfinder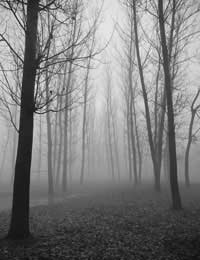 Throughout the Middle Ages into the Early Modern period, tens of thousands of suspected witches were put to death in Europe. They were mostly women, often the odd sorts in their communities, the ones who didn't fit in, people whom the majority had taken a prejudice against for whatever reason.
For the most part, Britain managed to avoid the full ferocity of the witchcraft craze. Only a few hundred unfortunates are believed to have been executed in Britain for the crime of witchcraft. Exceptions to the generally prevailing British norm of tolerance and good sense tended to occur during periods of social ferment caused by economic crisis or the chaos of war. It was in the 1640s, as the Civil War raged, that the most famous episode of British witchcraft persecution occurred, when the sinister puritan figure of Matthew Hopkins appeared on the scene.
The Witchfinder General
Styling himself the "Witchfinder General," Hopkins travelled from place to place, identifying supposed witches, interrogating them harshly to find out about their accomplices, and then presiding over their inevitable executions. For this he received generous fees, and it seems he made a good living from practising his murderous trade.
No one has advanced a convincing explanation of what it is in a human life that causes some people to return as ghosts, and not others; but emotional anguish seems to be a part of it. Hopkins left a trail of anguish throughout Essex and East Anglia, the regions where he was active, and, as might be expected, restless spirits haunt those parts today, ghostly reminders of the witchfinder's work.
The Witchfinder's Way
Connoisseurs of Britain's dark past and haunted present may be interested in the "Witchfinder's Way" cycle route set up by set up the local tourist authorities. Meandering across 27 miles in total, it manages to mark out the major scenes associated with Hopkins' trail of destruction, as well as a few other scenic or historically-interesting locales along the way. This part of Britain is famous, of course, for its lack of hills and its pleasant countryside, making it ideal cycling country.
Colchester
When you're done with a day's cycling, you may like to visit the nearby town of Colchester. Once the capital of Roman Britain, Colchester has had an eventful history, and has the ghosts to prove it. The Witchfinder himself paid a visit here and carried on his customary persecutions. One of his victims, a chambermaid called Sarah, is said to haunt the Fox and Fiddler pub to this day; and in Colchester castle, which was formerly used as a prison, Hopkins interrogated and presented "evidence" against his suspects. There is a ghost walk tour available on Thursday evenings which will fully acquaint you with Colchester's spooky side.
The Witchfinder's Ghost
After bringing about the untimely demise of several hundred "witches," Hopkins himself died of consumption in Mistley in 1647. His ghost has been spotted in quite a number of places around the locale, including Mistley pond, and the Mistley Thorn Hotel, which stands on the spot where Hopkins conducted a number of his trials. And, in case you needed a further incentive to visit, the hotel is renowned for its fine cuisine!
You might also like...