A Guide to Ghostly Edinburgh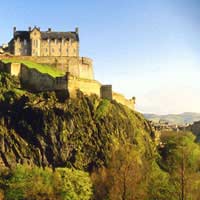 Edinburgh has the reputation of being the most haunted city in Britain and some say, Europe. Perhaps it's the castle looming from the hilltop, casting a spectral shadow on the streets below but, whatever the reason; the city is certainly chock-full of tales of the supernatural.
Despite its attractive architecture, Edinburgh has always had its seamy underside. This is, after all, the city of Burke and Hare, the notorious 19th century criminals who earned an ungodly living providing corpses to medical students for use in autopsies. Robbing graves to meet their commitments was too arduous so they took to murdering people themselves just to keep up the supply of fresh corpses!
Mary King's Close
Some of the creepiest and yet most touching of Edinburgh's ghost stories relate to Mary King's Close – a maze of narrow streets running through tall buildings which became home to many of the city's poorest people centuries ago. One particularly virulent outbreak of plague affected the residents of Mary King's Close especially badly and, after a time, the city administrators took the decision to wall up this whole section of the city. It remained shut off from the world until recent times.
One Japanese woman, reputedly a psychic, who was present on a tour of the King's Close, reported that she sensed the presence of a young girl who was distressed and looking for her doll. She said she felt the girl tugging at her. The Japanese woman bought a doll and left it in the room where she had felt the ghost, and claimed she sensed that the spirit was pleased.
Several psychics have since made contact with the spirit of this girl, whose name is said to be Annie. She is believed to have been locked in her room and left to die by her family after contracting the plague. Today, Annie's room has become a kind of shrine. Many visitors have left gifts of toys and dolls there, and thousands of pounds have been left in donations for her – money which was given to the Royal Hospital for Sick Children in Edinburgh.
Edinburgh – the Vaults of the Old Town
The underground vaults of Edinburgh's Old Town are another hotspot for ghostly activity. Constructed in the 18th century, they were abandoned shortly afterwards because of flooding, and became home to a legion of the city's dodgiest characters. Before long, they had turned the vault area into a warren of crime and vice. After being closed up in 1830, they were re-opened in the 1990s and, since then, a large number of people have reported ghostly encounters inside. These range from cold sensations to stones being thrown mysteriously through the air, sounds being heard where no one is present; visual manifestations, of course; and one woman is even said to have been attacked by one particularly vicious ghost. This was Mr. Boots, who is believed to be a murderer from the olden days.
Various kinds of communication have taken place with the vault ghosts over the years, allowing many of them to be identified by name. Psychics and mediums have relayed messages from the spirits and EMF meters have been used to provide simple Yes-No answers in response to questions which were asked aloud. In addition to the infamous Mr. Boots, there is the little boy Jack, who is said to have been murdered by Mr. Boots, and a woman called Maggie Dickson who appears frequently to visitors.
Mercat Tours run all-night vigils in the vaults so you too can confront the ghosts of Edinburgh's grim past if you dare. These are a cut above the average ghost walks and feature the presence of a psychic and the use of serious equipment such as EMF meters and video cameras to try and detect the presence of the spirits.
Conclusion
There are now quite a few companies running walking tours of Edinburgh's most haunted spots. Some allow you to book a place on their websites and even offer you a discount for doing so. Many of the tours focus on one location only, and one particular part of Edinburgh's shady past so, if ghostly walks are what takes your fancy, you might well enjoy attending more than one.
Wreathed in history, Edinburgh certainly has a fascinating gallery of ghosts to greet the modern traveller. Anyone with even a casual interest in the paranormal will no doubt find a visit there richly rewarding.
You might also like...