The Ghosts of Famous Britons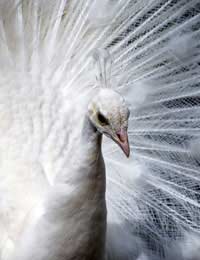 You don't need to go to Madame Tussauds to see famous dead British people. A surprisingly large number seem to return as ghosts to their lifetime haunts. So keep your eyes peeled as you travel the length and breadth of Britain and you could catch a glimpse of anything from a dead queen to a modern pop star.
We often think that, in order for someone to return as a ghost, their life must have been unfulfilled in some way, perhaps ending tragically, prematurely, or violently.
Royal Ghosts
Mary Queen of Scots certainly had reason to feel aggrieved, having had her head chopped off! Her ghost has been spotted in a remarkable number of places and is probably Britain's most prolific ghost having been seen across the length and breadth of Britain, ranging from Craignethan and Stirling Castles in the north to Bolton Castle and the Talbot Hotel in the South. Mary's tormentor, Elizabeth I, is also believed to have appeared in ghostly form, dressed in black, in Windsor Castle.
Famous victims of royal wrath abound in the Tower of London where the spirits of Anne Boleyn, Guy Fawkes and Sir Walter Raleigh have all been witnessed
Oliver Cromwell's home in Ely has now been turned into a museum documenting Cromwell's life and the history of the Civil War period. But not all of the 17th century figures in the museum are made from wax! A woman who once stayed at the house with her husband, back when it was an inn, described seeing the figure of a powerful, preoccupied man who gripped her arm firmly before disappearing. She believes it was the ghost of Cromwell himself. A team from the Cambridge Paranormal Research Group, which visited the house accompanied by a medium, received and managed to make contact with what they believed to be the spirit of Cromwell. The Lord Protector's ghost has also been seen in London on a number of occasions, including, allegedly, by the Duke of Wellington in what is now the Wellington Museum.
Lillie Langtry, Victorian actress and paramour of the future King Edward VII, is another extremely busy ghost. She has been seen in quite a few places including London and Torquay. Another Victorian celeb who has returned in phantom form is Florence Nightingale. The nursing pioneer is believed to haunt the precincts of St. Thomas's Hospital in London where she helped establish a school for nursing.
Modern Ghosts
The ghost of John Lennon has been spotted or sensed on more than one occasion. Oasis member Liam Gallagher claimed the legendary Beatle appeared to him after waking up in a friend's house. The quantity of alcohol or other inebriates consumed by Gallagher beforehand is, unfortunately, not known. Former Beatle Paul McCartney also believes he has been visited by the spirit of his dead friend. McCartney has said that as he, George Harrison and Ringo Starr were recording the single Free as a Bird in 1995, they all felt Lennon's presence in the studio with them. Later, as they posed for a photograph together, a white peacock from a nearby farm wandered into the shot and McCartney said "That's John." An incorrigible globe-trotter even after his death, Lennon's ghost has also appeared in New York and in the Hollywood home of actress Robin Givens.
Carry-on legend Sid James is said to haunt the Sunderland Empire Theatre where he died in 1976. James suffered a heart attack while on stage then died shortly afterwards in a backstage dressing room. Some years later, roly-poly comedian Les Dawson is said to have emerged terrified from this dressing room and refused to re-enter it or even to speak about what had happened there. Many believe he encountered the ghost of Sid James.
So, even if you don't get to meet any celebs in their lifetimes, you could still catch them after they're dead. It's unlikely they'll be signing any autographs, but it should be a moment to remember all the same.
You might also like...