Belgrave Hall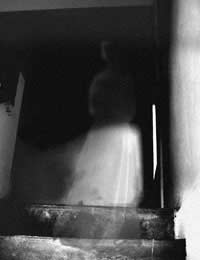 Belgrave Hall is known for its beautiful garden, which people love to visit.But, could there be more to the Hall?
A Haunted History
For a number of years, people have reported seeing ghosts at Belgrave Hall. Usually, the ghosts are dressed in Victorian garb, like the one gardener Michael Snuggs reported seeing in the Hall. Who could the ghost be? Some believe it is Charlotte Ellis, the daughter of John Ellis, the former owner of the house.
Another ghost seen has received the nickname "Victorian Lady." Staff members have heard her walking upstairs. There is also a "Green Lady" and a "Grey Lady" who had been seen in the Hall and on the grounds. In addition to seeing ghosts, people also report smells such as fresh baked bread and gingerbread when none is being cooked.
Ghostly Encounter
For years, the staff of Belgrave Hall had felt the presence of other worldly guests in the museum. In 1998, security cameras at the Belgrave Hall caught what appeared to be a ghostly apparition that appeared in the fog and the media descended upon the museum. The curator of the museum, Stuart Warburton, was convinced that the images seen at 4:50 am were ghosts, but decided to have the International Society of Paranormal Research (ISPR) came out to investigate it.
The team visited Belgrave Hall and came into contact with several ghosts. One particularly negative male energy was found upstairs. It was very strong and the team felt it best to leave it alone. They also found a child ghost that had died of tuberculosis and a male ghost that had died in a fall. While the ISPR team had no prior knowledge of those having resided in the Hall, almost all the entities they ran into were confirmed to have been at the Hall at one point in time.
Or Not
However, while the ISPR team did feel Belgrave Hall lived up to its haunted history, they found no paranormal activity at the location where the images were recorded. After examining the security footage, the investigators determined that the image was created due to environmental and not paranormal activities. They noted that had the image been of an apparition, it would have been well over 10 feet tall.
They also noted that the image appeared very briefly and that apparitions tend to linger rather than appear and disappear very quickly. After Curator Warburton tried to recreate the scene, it is believed that the image seen was actually that of a leaf. It was cold and rainy that night, which also created the fog seen on the video.
So, while the image captured on tape was not actually a ghost of Belgrave Hall, the ISPR did confirm its reputation as a hot spot of paranormal activity.
You might also like...