Area 51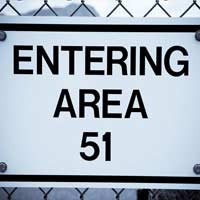 In the southwestern portion of Lincoln County in southern Nevada lies a stretch of land known as Area 51. It is located on the edge of a large dry salt flat referred to as Groom Lake. Within Area 51 is a United States Air Force top-secret military testing and development base. Its official name is Air Force Flight Test Centre Detachment 3 (AFFTC Det. 3), but it is also sometimes known as Dreamland, the Ranch, Paradise Ranch, or the Box.
It is believed that the airfield is used to analyse enemy aircraft and weapons systems as well as to secretly develop and test new military aircraft. There are Janet flights that shuttle workers to Area 51 from a high security terminal at the Las Vegas McCarran Airport.
The secrecy and strict security that surrounds Area 51 is what makes so many people, especially conspiracy theorists, wonder exactly what goes on there.
History
Groom Lake was used during World War II for bombing and artillery practice. However, that ceased in 1955 when Lockheed Martin's Advanced Development Programs decided it would be a good location to test the U-2 spy plane.
The base expanded over the years and it was used as the testing ground for other Black Projects (classified military/defence projects that are unacknowledged by the government, military personnel, and defence contractors that work on them) such as the A-12 Blackbird, the F-117 Stealth Fighter, and the B-2 Stealth Bomber.
Today
The government declassified the existence of Area 51 in 1997. That means, they finally admitted that the area did exist. However, the area that surrounds Groom Lake remains off limits to both civilians and normal military air traffic. There are radar stations, buried motion sensors, and HH-60 Pave Hawk helicopters in the area that that notice unauthorized personnel trying to enter the area.
Anyone that visits Area 51 is met with a warning sign that reminds him or her "photography is prohibited" in large letters. People who have been caught aiming cameras at the base have been detained afterwards. In smaller letters on the sign, it says that use of lethal force to those disobeying the sign is authorized. Security guards, armed with M16s, routinely patrol the perimeters of the area. There are no reports of visitors failing to halt being shot, but there is a $650 fine that is usually imposed. Several curious reporters have found themselves receiving follow-up visits from FBI agents after trying to sneak onto Area 51. Even military pilots risk receiving disciplinary action if they stray into the airspace surrounding Groom Lake.
UFOs, a New World Order, and the Moon Landing
Part of the mystery that surrounds Area 51 has to do with unidentified flying objects or UFOs. This is due in part to the fact that the aircraft research there is so secretive and there have been reports of unusual phenomena in Area 51. Some people believe that Area 51 is used to store crashed alien spacecraft to the government can study not only the aircraft, but also any aliens captured in the crash – dead or alive. There are rumours that meetings between high government officials and extraterrestrials are actually taking place in on the base. But there are other theories as to what actually goes on there.
Some people believe that weather control or time travel experiments are being conducted there. Some conspiracy theorists even think that a secret one world government, a New World Order, is conducting their activities within Area 51. In 2000, Fox Television broadcast a show that talked about the possibility that the Apollo moon landing was a hoax. People who think the moon landing was a big hoax believe that the footage seen of the moon landing was actually filmed in Area 51.
Bob Lazar
In 1989, Bob Lazar did an interview with reporter George Knapp from KLAS TV. He said that he worked with alien space craft in an area south of Area 51 known as S-4. As a physicist, he said it was his job to study the propulsion system of an alien spacecraft. In the interview, he went on to explain the system, but was somewhat vague about where the spacecraft came from, other than to say it was from the civilisation Zeta Retuculi 1 & 2 star systems and the race of beings was referred to as "Greys."
Sceptics point out that Lazar claimed to have degrees from the California Institute of Technology and the Massachusetts Institute of Technology, but his name didn't appear on either school's alumni rolls. Lazar countered with the fact that that was due to the government's attempt to erase his past for secrecy. George Knapp did locate a W-2 tax form that showed that Bob was indeed employed by the Department of Naval Intelligence in 1989.
So did Bob Lazar really work on alien spacecraft and were his credentials removed to make him a "non-person" in the eyes of the government? Or was his whole story just a figment of his imagination about a place that is so secretly guarded, most people can only imagine what goes on in there?
As long as the government continues to guard Area 51 as it does, there will no doubt continue to be rumours about UFOs, aliens, and secret governments.
You might also like...