Whaley House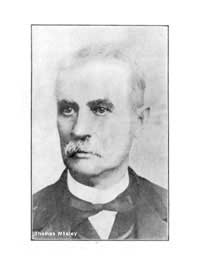 Thomas Whaley was an early settler in San Diego California. He moved there from San Francisco after losing his business in a fire. He married Anna Eloise DeLaunay in 1853 and the two would have six children together. In 1857, Whaley moved into a house in a part of San Diego referred to as Old Town. At the time, Whaley could have not known that one day his new beautiful house would be officially listed by the U.S. Commerce Department as a haunted house.
Early History
Thomas Whaley was a predominant San Diego resident, serving as President for the San Diego City Board of Trustees, essentially the Mayor position, in 1858. His home was the first brick home in San Diego and it served as the county courthouse from 1869 until 1870. The upstairs was used as a commercial theatre as well as a meeting room for the County Board. A room downstairs was used as a store.
What would have caused the house to be haunted? It is said that four years after the house was finished and Whaley knocked down a gallows that had been on his property, footsteps were heard upstairs. Whaley believed the footsteps belonged to a man known as Yankee Jim.
Yankee Jim
James "Yankee Jim" Robinson was accused of stealing a schooner in 1852. It is unclear whether Jim actually stole the schooner or not, but he was eventually brought to jail for the crime. He was given a trial, but was semi conscious due to a blow on the head he received when caught. He was sentenced to hang although two of his accomplices in the crime were given only a year in prison. Having received no medical attention for his injuries, Jim was nearly delirious by the time of his hanging on September 18, 1852. The executioners had not realized how tall Yankee Jim was and when he was hung, his toes scraped the ground. It took him 45 minutes to die in what was a slow and agonising death.
Could it be that Jim was hung in the exact spot where the house was built? Many believe that it happened in the area of the archway between where the music room and parlour is now. Some who visit the house report feeling a strangling sensation in their throat when going through that archway.
Other Ghosts
But Yankee Jim is not the only ghost that haunts the Whaley House. Thomas and Anna lost a son at the age of 17 months to scarlet fever and people have reported hearing his cries. They also report hearing children play in the garden outside. The daughter of a neighbour was killed in the garden when her neck was sliced on Anna's clothesline.
Some have even reported seeing the ghosts of Thomas and Anna in the house. There is often the smell of a Cuban cigar, which Thomas Whaley liked to smoke, lingering in the air of the home. Some have also reported a flowery perfume smell that they think signifies the presence of Anna as well.
Daughter Violet Whaley married in the house in 1882, but by 1884, she was divorced. Distraught, she committed suicide in the house in 1885 by shooting herself. Thomas moved the family to another house and he died in 1890. The Whaley House remained vacant for several years until Francis Whaley moved in in 1909 and began to restore it. Anna moved back in, but she died in the house in 1913 and Francis died in the house in 1914. Lillian, the Whaley's youngest child, lived in the house until her death in 1953.
The house was again in poor shape and a new owner wanted it torn down, but the city of San Diego stepped in and opened it as a museum in 1960. Once the house was certified as haunted, the visitors increased. Then local television celebrity Regis Philbin spent the night there in 1964. He said that at 2:30 am, he and his companion saw something walk from the study into the music room. When they shined a flashlight on it, it disappeared and Philbin left the house.
While not old by some standards, the 150-year-old home has certainly seen its share of sorrow and death. While it may not appear menacing from the outside, many parapsychologists and regular people alike can testify to that fact that there is something on quite right going on in the Whaley House of San Diego.
You might also like...