Bigfoot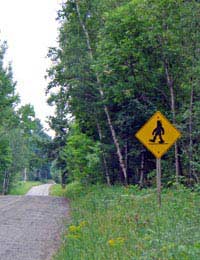 Bigfoot, sometimes known as Sasquatch, is a cryptid – an animal that has not been proven through science and physical evidence to exist. People have reported primarily seeing him in remote forests such as those in the Pacific Northwest area of the United States or in British Columbia, a province of Canada.
But, creatures fitting the Bigfoot description – large, hairy ape-like creatures that walk upright – have been seen all over the world. In Wisconsin, the Lakota Indians have a legend of a creature named Chiye-tanka. In Tibet, the description of the Yeti closely resembles that of Bigfoot. In China, he is known as Yeren, while in Australia, the creature is called Yowie.
Description
Most people describe Bigfoot as looking a bit like a gorilla, but he walks like a man. He has large eyes, a well-defined brow ridge, and a large Neanderthal forehead. He is covered from head to toe in dark brown or red hair, like a primate. People estimate that he stands between seven and ten feet tall. People who have been in close vicinity to Bigfoot have described him as having a smell that is foul, somewhat like a skunk or dead animal.
Sightings
There have been many reports of people seeing Bigfoot, with one of the earliest recorded being by Reverend Elkanah Walker in 1840. He was a missionary who wrote about Native Americans speaking of a large animal that stole their salmon and had a strong smell. In 1924, Albert Ostman claimed he was in British Columbia when a family of Sasquatch kidnapped him and held him captive for several days. In 1941, Jeannie Chapman and her children fled their home when a Sasquatch over seven feet tall approached it. Construction workers Leslie Breazale and Ray Kerr reported seeing a female Sasquatch in Eureka, California in 1958.
One of the latest reporting was by Rick Jacobs on September 15, 2007 while he was hunting in Ridgeway, Pennsylvania. He took a photo of what he said appeared to be a Bigfoot-like creature, but the Game Commission, after examining the photo, said that it looked like "a bear with a severe case of mange."
Photos
Perhaps the best-known footage of Bigfoot is the Patterson-Gimlin film that was taken in late 1967. This short movie (less than a minute), taken by Roger Patterson and Robert Gimlin, shows a Bigfoot walking. The two took the movie in Bluff Creek, California. Patterson died in 1972, but Gimlin has recently begun speaking publicly about the film.
While he once was convinced the animal was real, he has now said in interviews that perhaps he could have been fooled by a man in an ape suit (the common sceptic explanation). The film has been analysed by countless people over the years, with sceptics saying it is fake and the believers swearing it is real footage of a Bigfoot.
In 1995, a film crew from Waterland Productions was in the Jedediah Smith Redwoods State Park in northern California. They pulled off the road and through their headlights, saw and filmed what they claim was a Sasquatch.
Hoaxes
Few have come forward to admit to being a part of a Bigfoot hoax. But, in 1958, Jerry Crew took a cast of a large footprint to the local newspaper. The cast was made from a footprint found at a construction site in Bluff Creek, California. The story was run by Associated Press with an accompanying photo. However, years later, the family of Ray Wallace, the brother of Wilbur Wallace, the supervisor of the construction site where Crew cast the footprint, said they wound wooden track makers in their father's belongings and it was he who faked the footprints.
It seems that until a Bigfoot is caught or a carcass is found, the debate over whether Bigfoot actually exists or not will continue.
You might also like...