Roswell UFO Incident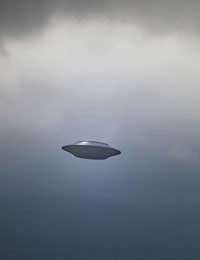 On a warm summer night in 1947 something very strange happened near the small town of Roswell, New Mexico that is now known as the Roswell UFO incident. That night, something crashed in a field on a ranch. What exactly crashed has been under debate for sixty years. Initially told it was a UFO, and then told it was a weather balloon, many people think the debris actually was from an alien spacecraft. Not only do they think the United States government covered up the crash of a UFO that night, some people believe that alien beings were also recovered that night.
July 1947
Rancher Bill "Mack" Brazel found debris on his ranch on July 4, 1947 after hearing what he described as an explosion. The debris was foreign to him, so he loaded some of it in a box and took it to his neighbours to see what they thought of it. Floyd Proctor was baffled as well, so they decided to show the material to the sheriff. On July 7, Brazel showed the material to Sheriff George Wilcox, who was just as perplexed about what the debris could be. He called the Roswell Army Air Field (RAAF) and spoke with Major Jesse Marcel. The base decided to send a team out to investigate the scene of the crash.
On July 8, 1947, a press release was issued by the RAAF stating that the 509th Bomb Group had recovered a "flying disc." Needless to say, the recovery of a flying disc caused much commotion. However, the Commanding General of the Eighth Air Force later issued a statement saying that the "flying disc" was actually a weather balloon. The Air Force held a press conference later, showing the recovered debris that did indeed look like a weather balloon. The case of the mysterious craft was closed and no one thought much about it for the next 30 years.
1978
Stanton T. Friedman, a physicist and ufologist, decided to do some investigation into the incident in 1978. He interviewed Major Jesse Marcel and Marcel described some of the material they found as beams that looked like wood, but it would not burn, even when he took a lighter to it. He also tried a sledgehammer to bend it, but it would not budge. But the one thing that particularly stood out in his mind was the hieroglyphics on everything – symbols they could not understand.
Marcel's story was quickly picked up by the gossip magazine The National Enquirer and suddenly, the Roswell incident was receiving not only national, but also worldwide attention.
Alien Beings
Through the years, others have testified that what crashed that night was definitely not a weather balloon. Some claimed that rather than one crash site, there were as many as eleven different sites. In 1989, mortician Glenn Dennis claimed that in July 1947, he was on base right after the recovery was made. He was hurried away but he knew there had been a crash somewhere.
A nurse he knew met him at the Officers Club and told him that there were three bodies recovered from the crash, but they were not human. She had been in the room during the autopsy, but she swore Dennis to secrecy. She said the beings had only four fingers on each hand and their head was much bigger than their body. Their eyes were sunk in and they had no hair. She even drew pictures of the beings for him, who stood less than four feet tall. She claimed the smell of the bodies was worse than anything any of them had ever encountered.
Dennis tried to contact the nurse the next day, but he was told she was unavailable. He tried for several days until he was finally told she had been transferred. He received a letter from her a few weeks later in which she said she would contact him about the incident. When he wrote her back, his letter was returned, reading "Return to Sender – DECEASED." He later heard a rumour that she and several other nurses were killed in a plane crash while on a training mission.
Additional Witnesses
Other witnesses include Sgt. Robert Porter, a B-29 flight engineer who helped recover debris, 1st Lt. Robert Shirkey, the base assistant operations officer, who saw the debris loaded onto the B-29, Sgt. Robert Smith, of the 1st Air Transport Unit, who helped load the debris as well. J. Bond Johnson was a photographer for the Fort Worth Star-Telegram who took photos of the debris of the aluminium foil like debris.
Other claimed to have seen the Roswell crash aliens while many claim to have seen UFOs and aliens since 1947 in the Roswell area. Some, such as Glenn Dennis, claim they received death threats if they spoke about the incident. In 2007, Jesse Marcel Jr. wrote the book "The Roswell Legacy." In it, Marcel Jr. hopes to clear up exactly what happened at Roswell as well as clear his father's name. He said that his father, on his deathbed, told him "You must tell the world the truth abut Roswell. When the military no longer has a hold over you and your family (Dr. Marcel Jr. was full-bird Colonel in the United States Navy who retired after 38 years of service), please set the record straight." He released the book in July 2007 to coincide with the sixty-year anniversary of the Roswell crash.
Fact or Fiction?
Could there really have been extraterrestrial beings captured in Roswell? Many people are sceptical, especially since no one spoke up about the incident until around 30 years after it happened. In that amount of time, stories can become distorted and memories unclear. Even some who have written about the event, such as author William L. Moore, are now no longer convinced that this was an extraterrestrial event.
Still some insist it was a cover-up and it is time for the government to tell the truth about what really happened. John Podesta, former Chief of Staff under President Clinton, was hired by the Sci-Fi Channel and appeared at a Washington UFO news conference in 2002. He said, "It is time for the government to declassify records that are more than 25 years old and to provide scientists with data that will assist in determining the true nature of the phenomena."
Perhaps it is the government's lack of willingness to declassify the records that keeps people wondering exactly what went on. Regardless, every year, thousands flock to Roswell to visit the Roswell International UFO Museum & Research Center, purchase alien related items at gift shops, and attend the annual UFO festival held there each July.
You might also like...