How to go on a UFO Spotting Trip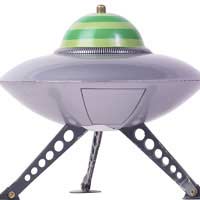 UFO spotting isn't quite as easy as ghost-hunting. Ghosts tend to be strongly associated with particular places; UFOs much less so. That said UFO sightings are not entirely random. Though in theory an alien spacecraft could be spotted anywhere, in practice UFO sighting reports do tend to be concentrated in particular locales.
Deciding on a Location for Your UFO Spotting Trip
UFO aficionados speak of what they call a "flap." A flap is a burst of concentrated UFO activity with many sighting reports occurring within a short space of time, usually but not always within the same geographical area. If you're determined to see a UFO for yourself, your best bet is to hook up with other like-minded enthusiasts. There are many UFO clubs and associations in Britain, often localised; many with their own websites. Joining one of these will allow you to keep up with developments. If activity flares up over a spot in Britain, you can plan your trip accordingly, increasing your chances of actually seeing a UFO.
In addition to the periodic "flaps", there are also certain areas of the country where UFO activity has been historically high. The greatest concentrations of UFO sighting reports in the UK have come from Warminster in Wiltshire; the so-called Falkirk triangle in Scotland; and North Wales.
Warminster became famous in the 1960s for its huge number of reported sightings but activity there appears to have ebbed since. North Wales has a consistently high level of reported sightings in the area around Llandudno. In recent years, however, the area comprising the Falkirk triangle in Scotland, which centres on the town of Bonnybridge just outside of Edinburgh, has without question, been the UFO capital of the UK and some say the world. In fact, Bonnybridge has even been twinned with Roswell in New Mexico, infamous site of the alleged UFO crash in 1947. The area only has a population of around 5,500 but, according to one report, approximately 2,000 of those claim to have seen a UFO! Even the local politicians have gone public with claims about UFOs. On average, the area is said to record around 300 sightings per year so Bonnybridge may well be worth placing on your itinerary if you're determined to see a UFO for yourself.
Going UFO Spotting
Once you've decided on a location for your UFO-spotting expedition, what should you take with you?
Warm clothing!
Flask of warm drink – it gets cold out there.
Binoculars.
Camera – still or video.
Pen and paper.
A compass.
Watch.
Here are a few tips to help make the experience go more smoothly:
By general consensus, the night time is the right time for spotting UFOs!
Don't go alone. Company will help keep you awake, and, if you do see something, you'll have witnesses to back you up.
Standing on a hillside is best. You'll have a clearer view of the sky and the surrounding landscape, helping you gain a better impression of the speed of any unusual object you see.
Some dedicated spotters believe UFOs are seen most frequently in the vicinity of water so perhaps perching yourself somewhere close to a river, lake, or even the sea is a good idea.
There are those who claim that UFOs follow Ley Lines – mysterious lines of hidden energy within the earth. It may be nonsense but if you can get hold of a local ley line map, and have no other preference location-wise, it can't hurt to try it out!
Spotting is for Life
The necessity of patience cannot be stressed enough if you intend to become a UFO spotter. Do not expect to be able to just spend a few hours in the dark on a hillside before a bunch of Venusians turn up, whisk you away in their flying saucer and give you a quick tour of the solar system. Dedicated UFO spotters, who devote substantial portions of their lives to pursuing their interest, often have no more than two or three encounters with what they believe to be extraterrestrial craft.
If spending your nights freezing to death on dark hillsides isn't your idea of fun, you could always try UFO spotting the easy way – through a web cam. Sometimes web cams are set up to scan the skies in places where many sighting reports have been received and feed their images to a web page. Usually the web cam will take a picture automatically every few minutes and, often, the web page will allow you to press a button and save the current picture to your hard drive. People have actually spotted anomalous phenomena in this way and taken pictures of them so it's not entirely to be sneered at!
Conclusion
You may take the idea of UFO spotting seriously or you can regard it all as a bit of a laugh. If you do see an alien spacecraft, you may find that it is a life-changing moment; if not, well, you should at least have increased your knowledge of astronomy with all that staring at the night sky.
You might also like...
Hi guys, im new to this, but not to the concept per se. Are there actually groups of people that go on trips to spot UFO's? If there are i would consider going myself... Is there anybody out there?
Nimrod
- 15-May-11 @ 8:42 PM