Nostradamus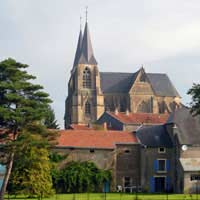 Centuries after they were written, the prophecies of Nostradamus continue to excite the popular imagination. Whenever great events occur, whenever war looms or conflict erupts, it is to Nostradamus that people turn in search of enlightenment. No other prophet in the modern age has been able to command the public's attention in this way.
Life of Nostradamus
Michel de Nostradame was born in 1503 in France in St. Remy de Provence. His family, which had previously been Jewish, had recently converted to Catholicism, but Jewish mystical literature may well have had a great influence on his thoughts.
Nostradamus was successful during his own lifetime. He became a respected physician, administering cures for the plague which troubled France; but it was, above all, for his gifts of prophecy that he became renowned. Nostradamus published yearly almanacs containing predictions about contemporary events. These became best-sellers but it is for his most ambitious work, The Prophecies, in which he attempted to foresee the entire future history of the world, that he is remembered today. First published in an incomplete form in 1555, The Prophecies secured his lasting fame. He found himself invited to the French court, asked to predict the future of royalty and showered with honours and rewards.
Anecdotes about how Nostradamus deployed his prophetic gifts during his own lifetime were abound. He is said to have once bowed before a passing shepherd. When his friends asked why, he replied "One must show respect to the Holy Father." After Nostradamus' death, that shepherd went on to become Pope Sixtus V.
Nostradamus' grave was relocated during the French revolution. When his body was dug up, it was said to have been found wearing a gold medallion with that day's exact date on it.
Nostradamus - The Prophecies
With anecdotes, it is hard to disentangle truth from apocrypha, but what do his quatrains have to say about the great events that have occurred since then? What did he actually prophesise? One notable interpreter of Nostradamus' work, Erika Cheetham, insists he foresaw the Second World War in this quatrain:
Beasts wild with hunger will cross the rivers,
The greater part of the battlefield will be against Hister,
He will drag the leader in a cage of iron,
When the child of Germany obeys no law.
Cheetham declares that the laws of anagrams can be applied to the proper names Nostradamus uses and that Hister thus becomes Hitler. Others claim that Hister in fact refers to a river and that this interpretation is invalid.
Opinions differ about whether Nostradamus predicted the events of September 11th. Certainly, in the aftermath of the attacks there were some fake quatrains kicking around which were quickly debunked. It is interesting; however, to read Erika Cheetham, writing in 1973, interpret the following verse.
Ennosigee feu de centre de terre,
Fera trembler au tour de cité neufue.
She translates this as "Earthshaking fire from the centre of the Earth will cause tremors around the New City," but provides the following commentary:
Attack on New York? An explosion in the centre of the city New York making the land tremble, or could tour here mean towers or skyscrapers?
It certainly provides food for thought.
Admirers of Nostradamus insist he has predicted many of the great events of world history since his time, including the French Revolution, the two World Wars (and perhaps others to come!), the use of atomic weapons on Japan and the assassination of John F. Kennedy.
Nostradamus - The Sceptics
Nostradamus' prophecies are couched in disturbingly vague French verse. This leaves wide latitude for interpretation; and the problem is aggravated by the many different editions of Nostradamus' work which are available, often strikingly different from one another. This was an age when standards of accuracy in printing and spelling were far looser than they are now; even when the text of one edition strongly resembles another, key words, names and phrases can exhibit varieties of spelling which make precise interpretation even more difficult.
There are many sceptics about the value of Nostradamus' work. They argue that it is so vague as to be essentially worthless from a predictive point of view; they insist that not a single correct prediction of a future event has ever been made from a reading of Nostradamus; such successes as have been claimed for him, they say, are the result of retrospective interpretation, or over-interpretation, of what was actually there.
Conclusion
Controversy about Nostradamus' work will probably continue until the end of the world, which might be just around the corner, or perhaps not. Whenever something significant happens in world affairs, there will always be those who claim it was foretold in his quatrains and others who say the interpretation is a stretch. The good thing is that much of his work is now freely available online, so you can have a read and decide for yourself.
You might also like...